Panduan cara install Kloxo-MR 7.0.0 atau dinamai Kloxo-MR 7 (terbaru) di Linux CentOS 7. Agar instalasi Kloxo-MR berjalan mudah, sebaiknya kamu mulai mengganti hostname agar memenuhi syarat FQDN (Fully Qualified Domain Name).
Prasyarat
Kloxo-MR dapat berjalan di lingkungan operasi aplikasi berikut:
Redhat/CentOS 5 and 6 (32bit and 64bit) / Redhat/Centos 7
RAM 512 MB
Disk 10GB
Persiapan Install Kloxo-MR
Sebaiknya Kamu sedang tak buru-buru, ini dikarenakan fiturnya yang demikian itu banyak, karenanya banyak pula sistem aplikasi yang akan diinstall dan ini membutuhkan waktu lumayan lama, setidaknya + – 20 menit-an.
Update system
yum update -y
Install paket pendukung
Langkah berikutnya install program pendukung, misalnya wget, zip, unzip, telnet dll., seandainya belum ada.
yum install yum-utils yum-priorities vim-minimal subversion curl zip unzip -y
yum install telnet wget -y
Masuk ke direktori /tmp
cd /tmp
Hapus rpm lama, seandainya ada
rm -f mratwork*
Install rpm
rpm -ivh https://github.com/mustafaramadhan/rpms/raw/master/mratwork/release/neutral/noarch/mratwork-release-0.0.1-1.noarch.rpm
Masuk ke direktori /
cd /
Update
yum clean all

yum update mratwork-* -y
Install Kloxo-MR
yum install kloxomr7 -y
Run scriptnya
sh /script/upcp
Tampilan ketika berhasil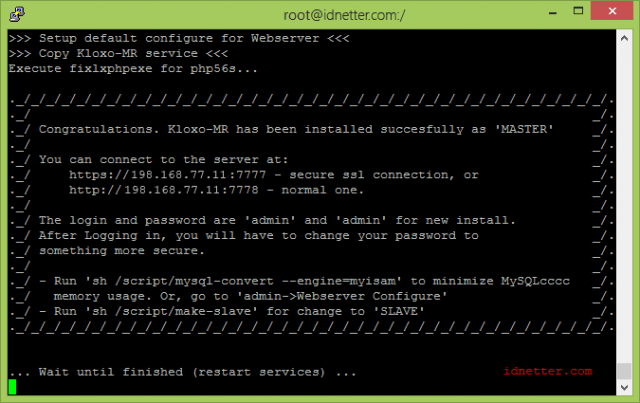 Setelah selesai buka browser, akses : http://ip:7777 login dengan user:admin, password: admin
Screenshot
Dan ketika masuk, GlembarrrRR )))))))). Banyak kali menunya bukan?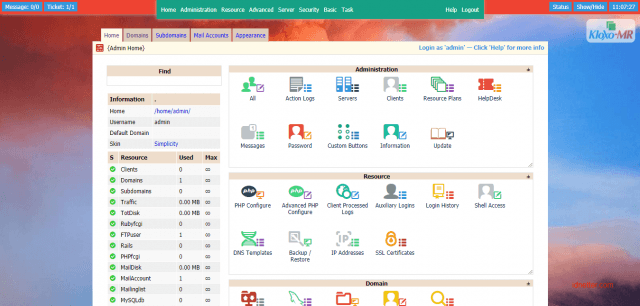 Fitur Kloxo-MR
Fiturnya Kloxo-MR banyak atau mungkin dapat dibilang betul-betul betul-betul banyak :), diantaranya yakni selaku berikut:
Billing: AWBS, WHMCS, HostBill, TheHostingTool, AccountLab Plus, Blesta and BoxBilling (note: claim by billing's author)
Web server: Nginx, Nginx-Proxy and Lighttpd-proxy, Hiawatha, Hiawatha-proxy and Httpd 24, beside Httpd and Lighttpd; also Dual and Multiple Web server *)
Webcache server: Squid, Varnish and ATS *)
Php: Dual-php with php 5.3/5.4 as primary and php 5.2 as secondary; multiple-php *)
PHP-type for Apache: php-fpm_worker/_event and fcgid_worker/_event; beside mod_php/_ruid2/_itk and suphp/_worker/_event
Mail server: qmail-toaster instead special qmail (in progress: change from courier-imap to dovecot as imap/pop3) *)
Database: MySQL or MariaDB *)
Database Manager: PHPMyAdmin; Adminer, MyWebSql and SqlBuddy as additional **)
Webmail: Afterlogic Webmail Lite, Telaen, Squirrelmail, Roundcube and Rainloop; Horde and T-Dah dropped
FTP server: Pure-ftpd
DNS Server: Bind and Djbdns; add Powerdns, MaraDNS, NSD, myDNS and Yadifa *)
Addons: ClamAV, Spamassassin/Bogofilter/Spamdyke, RKHunter and MalDetect
Free SSL: Let's Encrypt (via letsencrypt/certbot-auto and acme.sh) and StartAPI *)
Fixed many bugs of Kloxo Official (including security issues)
And many more!
Selamat mencoba.
Sumber https://idnetter.com